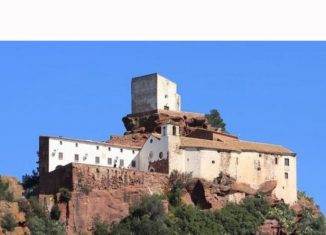 [vc_row][vc_column width="1/1″][vc_column_text]Miquel Anguera "Beatet"
31-08-2015
El proppassat 27 d'agost, la prestigiosa cadena de televisió anglesa BBC va recollir (no sabem com) la notícia que el Patronat de la Mare de Déu de la Roca porta a concurs la recerca d'un nou ermità per al nostre santuari, tota vegada que el Josep Gomà deixarà voluntàriament la seva feina d'ermità el proper 30 de setembre, després d'un període de vora quatre anys on tothom que l'ha tractat n'ha quedat més que satisfet, a tots els nivells.
Hem pogut constatar, però, un parell d'errors en l'escrit publicat. 1r: parla que la nostra ermita es troba en la part nord-oriental de la regió de Catalunya, quan estem al sud. 2n: diu que el primer document escrit trobat de l'ermita data del 1299, quan fou el 1230 quan, a Reus, un notari documentà un llegat a la nostra Patrona.
També observem que no tenen gens clar què és Espanya, Catalunya, una regió, Miró espanyol (?), etc.
Demanem disculpes perquè hem traduït l'escrit de la BBC d'una forma molt poc literal, perquè sigui ben entenedora per a tothom i donem les gràcies al soci que ens ho ha fet arribar i, evidentment també, a la BBC per la gran propaganda que fa de la nostra ermita, el poble i Joan Miró i, indirectament del Centre Miró que és on millor s'explica la relació del genial pintor amb el poble que el va acollir durant 65 anys.
Text publicat a la BBC:
Spain: 'Hermit wanted' at cliff-top sanctuary
Anyone who fancies life as a hermit will need to send in a CV and a photo – and speak Catalan
A medieval sanctuary in Spain has put out a job advert to fill a vacancy for a hermit.
Our Lady of the Rock, in the north-eastern region of Catalonia, took to Facebook to list the job's requirements. It says that the successful candidate must "leave all uncivil or immoral activity outside" and will be required to perform "all the proper duties of a hermit". These include guarding and looking after the ancient hermitage, which sits atop a rock overlooking the town of Mont-roig del Camp.
Despite most people's idea of life as a hermit, this particular job involves little seclusion and actually requires the successful applicant to welcome visitors to the sanctuary. Customer service is "essential" and knowledge of the history of Our Lady of the Rock is encouraged. The year-long tenure comes with free accommodation and a stipend of 1,000 euros ($1,100; £730) to cover the whole period.
According to The Local website, a chapel on the site was first mentioned in written records in 1299, and in 1916 it was immortalised in a painting by famous Spanish artist Joan Miro.
Traducció (lliure):
Espanya: "Es busca ermità" per al santuari del penya-segat.
Qualsevol persona que vulgui tenir la vida com un ermità haurà d'enviar un CV i una foto – i parlar català.
Un santuari medieval a Espanya ha posat un anunci de treball per cobrir la vacant d'ermità.
Des del Patronat de Nostra Senyora de la Roca, a la regió nord-oriental de Catalunya, es va penjar a Facebook enumerant els requisits del treball. Es diu que el candidat ha d' "abandonar tota activitat incivil o immoral" i haurà de desenvolupar "totes les funcions pròpies d'un ermità". Aquestes inclouen la vigilància i la cura de l'antiga ermita, que s'assenta sobre una roca que domina la localitat de Mont-roig del Camp.
Tot i la idea de la majoria de la gent "d'una vida com un ermità", aquest treball en particular implica poc aïllament i, de fet, requereix que el sol·licitant doni la benvinguda als visitants al santuari. El servei al client és l'ànima "essencial" i cal el coneixement de la història de la Mare de Déu de la Roca. L'estança de l'any implica l' allotjament gratuït i cal una fiança de 1.000 euros (1.100 $; £ 730) que serà retornada al final.
Segons el lloc web local, la capella fou esmentada per primera vegada en documents escrits l'any 1299, i el 1916 va ser immortalitzat en una pintura del famós artista espanyol Joan Miró.[/vc_column_text][/vc_column][/vc_row][vc_row][vc_column width="1/2″][vc_column_text]
[/vc_column_text][/vc_column][vc_column width="1/2″][vc_column_text][/vc_column][/vc_row][vc_row][vc_column width="1/2″][vc_column_text][/vc_column][vc_column width="1/2″][vc_column_text][/vc_column][/vc_row][vc_row][vc_column width="1/1″][vc_column_text]
[/vc_column_text][/vc_column][/vc_row]